Descrizione del prodotto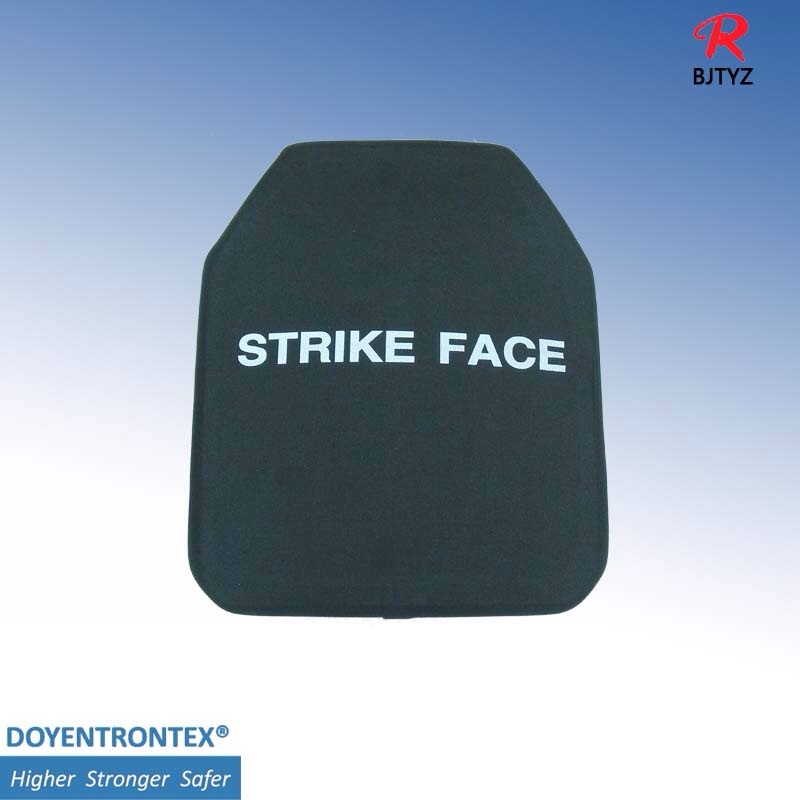 Product Introduction

DOYENTRONTEX® Bulletproof Plate made with patented DOYENTRONTEX® Unidirectional (UD) material is designed to help guards or soldiers in the field against heavy-duty, multiple-hit threats, such as AK47 MSC (7.62 x 39 mm) and NATO Ball (7.62 x 51 mm). According to different materials and applications, DOYENTRONTEX® Bulletproof Plates can be divided into PE Insert Plates, Ceramic Composite Plates, Ballistic Shields, Vehicle Armor Plates, Steel and PE Composite Plates. By reducing the weight, DOYENTRONTEX® Bulletproof Plate can provide the maximum levels of comfort and protection, without restricting movement or flexibility. They have been used in a wide range of personal protection and vehicle protection systems.


Main applications:
Personal protection
Bulletproof armor
Bulletproof shield
Explosion-protection wall

PS: We can provide different size and thickness for different protect levels, no matter curved or flat,as you wish. Material: Ceramic/ Alloy Steel & Aramid or 100%PE plate.
Model No.
Material
Protection Level
Size W ×L×H
Type
Weight
mm
kg
TYZ-ZF-143S
SiC(4)+PE
NIJ IV
STA
250×300×22
Single Curve/E or T
R:400
2.40±0.05
TYZ-ZF-143SM
SiC(4)+PE
NIJ IV
STA
250×300×22
Single Curve/E or T
R:401
3.20±0.05
TYZ-ZF-143A
Al2O3(4)+PE
NIJ IV
STA
250×300×22
Single Curve/E or T
R:400
2.90±0.05
TYZ-ZF-143AZ
Al2O3(4)+PE
NIJ IV
ICW.44
250×300×18
Single Curve/E or T
R:400
2.95±0.05
TYZ-ZF-143SZ
SiC(4)+PE
NIJ IV
ICW IIA
250×300×20
Single Curve/E or T
R:400
2.30±0.05
TYZ-ZF-133S
SiC(6)+PE
NIJIII+
STA
250×300×18
Single Curve/E or T
R:400
1.85±0.05
TYZ-ZF-133SQ
SiC(6)+PE
NIJIII+
STA
250×300×18
Single Curve/E or T
R:400
1.85±0.05
TYZ-ZF-133SZ
SiC(6)+PE
NIJIII+
ICW IIA
250×300×18
Single Curve/E or T
R:400
1.65±0.05
TYZ-ZF-133SZ
SiC(6)+PE
NIJIII
ICW.44
250×300×13
Single Curve/E or T
R:400
1.30±0.05
TYZ-ZF-133SZQ
SiC(1)+PE
NIJIII
ICW.44
250×300×13
Single Curve/E or T
R:400
1.30±0.05
TYZ-ZF-133A
Al2O3(4)+PE
NIJIII+
STA
250×300×18
Single Curve/E or T
R:400
2.30±0.05
TYZ-ZF-133AZ
Al2O3(4)+PE
NIJIII+
ICW 9mm
250×300×16
Single Curve/E or T
R:400
2.15±0.05
TYZ-ZF-133AZ
Al2O3(4)+PE
NIJIII+
ICW .44
250×300×16
Single Curve/E or T
R:400
1.70±0.05
TYZ-ZF-108A
Al2O3(4)+PE
NATO STANAG 4569III+
400×400×40
Flat plate
13.50±0.05
TYZ-ZF-107S
SiC(4)+PE
NATO STANAG 4569III+
400×400×33
Flat plate
--
TYZ-ZF-133AZ
Al2O3(6)+PE
NIJIII
ICW9mm
250×300×16
Single Curve/E
R:400
2.20±0.05
Model No.
Material
Protection Level
Size W×L×H
Type
Weight






mm


kg
TYZ-ZF-143S
SiC(4)+PE
NIJ IV
STA
250×300×22
Single Curve/E or T
R:400
2.40±0.05
TYZ-ZF-143SM
SiC(4)+PE
NIJ IV
STA
250×300×22
Single Curve/E or T
R:401
3.20±0.05
TYZ-ZF-143A
Al2O3(4)+PE
NIJ IV
STA
250×300×22
Single Curve/E or T
R:400
2.90±0.05
TYZ-ZF-143AZ
Al2O3(4)+PE
NIJ IV
ICW.44
250×300×18
Single Curve/E or T
R:400
2.95±0.05
TYZ-ZF-143SZ
SiC(4)+PE
NIJ IV
ICW IIA
250×300×20
Single Curve/E or T
R:400
2.30±0.05
TYZ-ZF-133S
SiC(6)+PE
NIJIII+
STA
250×300×18
Single Curve/E or T
R:400
1.85±0.05
TYZ-ZF-133SQ
SiC(6)+PE
NIJIII+
STA
250×300×18
Single Curve/E or T
R:400
1.85±0.05
TYZ-ZF-133SZ
SiC(6)+PE
NIJIII+
ICW IIA
250×300×18
Single Curve/E or T
R:400
1.65±0.05
TYZ-ZF-133SZ
SiC(6)+PE
NIJIII
ICW.44
250×300×13
Single Curve/E or T
R:400
1.30±0.05
TYZ-ZF-133SZQ
SiC(1)+PE
NIJIII
ICW.44
250×300×13
Single Curve/E or T
R:400
1.30±0.05
TYZ-ZF-133A
Al2O3(4)+PE
NIJIII+
STA
250×300×18
Single Curve/E or T
R:400
2.30±0.05
TYZ-ZF-133AZ
Al2O3(4)+PE
NIJIII+
ICW 9mm
250×300×16
Single Curve/E or T
R:400
2.15±0.05
TYZ-ZF-133AZ
Al2O3(4)+PE
NIJIII+
ICW .44
250×300×16
Single Curve/E or T
R:400
1.70±0.05
TYZ-ZF-108A
Al2O3(4)+PE
NATO STANAG 4569III+
400×400×40
Flat plate
13.50±0.05
TYZ-ZF-107S
SiC(4)+PE
NATO STANAG 4569III+
400×400×33
Flat plate
--
TYZ-ZF-133AZ
Al2O3(6)+PE
NIJIII
ICW9mm
250×300×16
Single Curve/E
R:400
2.20±0.05